I'm on my way back from New York today after a whirlwind tour of the Northeast. Kokoromi contacted me last week to let me know they'd be showing my experimental low resolution game, Standard Bits, at their Gamma 256 exhibition.
Gamma was the final event of the Montreal International Games Summit and it showcased 8 low-res games projected on giant screens at the city's Society for Arts and Technologies show space, set to live performances from New York chiptune artists and DJs. My friend Guy English (developer of Rogue Amoeba's new Radioshift and former Ubisoft engineer) lives in the city, and he graciously agreed to provide a couch to crash on.
It all sounded too awesome to miss, so I flew out to New York and took a train up to Quebec. Let me just say, the French Canadian accent is truly bizarre — Fargo meets Inspector Clouseau.
The games could not exceed 256×256 pixels, and I had decided to go with a resolution of 100×54. To put that into perspective, that's less than a third of the screen area in a Mac OS X icon.
The main character is a single pixel, and the left analog joystick is the only control. The game's environment is populated with entities that actively seek to attack you, as well as creatures that follow and protect you.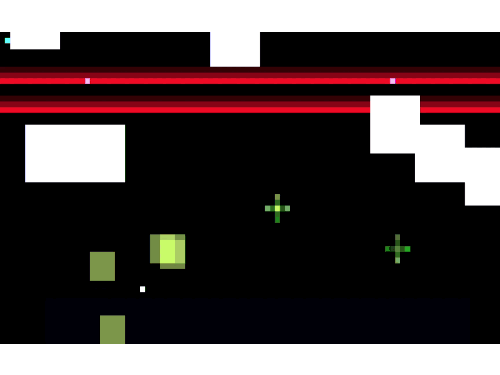 View the game on itchio
You may also encounter ambivalent hazards and innocuous inhabitants going about their own pixellated business. The idea was to create a dynamic world with complex interaction while using very simple input.
Longtime Mac developers might recognize that the name comes from StdBits(), which was the low-level pixel blitter in QuickDraw.
Opposite my game was Alec Holowka's Celu. and I was flanked by Jason Rohrer's Passage on the left, and the lowest resolution game of the event by far, the 8×8 pixel Dodge Club to the right. TIGSource was well represented, with 4 of the 8 games on display coming from TIGS regulars, games such as Bloody Zombies, Petri Purho's feast of zombie-cutting action and liquid blood dynamics which was placed wisely near the bar.
Though not the most graphically polished of the lot, Guy and I both took a huge liking to Mr Heart Loves You Very Much by TIGS regular Jimmy Andrews. It has a simple, fresh game mechanic that combines puzzle and reflex in a really fun way. And its svelte control scheme would make it ideal for something like the iPod Classic, or even the iPhone/Touch, making use of its accelerometer to change orientation.
Bubblyfish and the guys in Anamanaguchi (who both performed great sets) encouraged me to check out the Blip Festival in New York over the weekend, so I decided to extend my trip.
Blip was great. It was full of energy and crunchy melodies, with musicians from around the world. I captured some video from the iSight in my MacBook Pro which I'll post when I'm more settled in back home.
One of the most surreal and awesome moments of the trip came when someone at a Blip after-hours in Brooklyn asked me if I'd played "Doomlaser's Space Barnacle."
We ended up talking quite a bit and, hey, if you're out there, I'd love to see the photos you took!! I think there's a funny/terrible one with Paza Rahm (a Swedish Atari-ST afficianado who did an 8-bit remix of 'Girl' for Beck).
Paza and I got into a heated discussion about platforms, open source, and how government provided social mechanisms (or the lack thereof) influence cultural outlooks and output on both. He also gave me some new insights into why Sweden continues to allow The Pirate Bay to operate.
I met so many interesting, driven, and friendly people on the trip that it's hard to process. At Gamma, Standard Bits was played constantly from 5:30 pm until after midnight when the event was shutting down and people, both in and outside the games industry, gave me some very inspiring feedback.
The game isn't in a completely finished state, but if you'd like to try the build that was played at Gamma 256, you can download it here. It is a Windows executable, though it will most likely make it's way to the Mac soon.
The Gamma photos were taken by Ivan Safrin. More are available here.
Thanks to all the Kokoromi people for hosting such a cool concept and event. I loved Montreal and I'm looking forward to spending more time up there if you do one next year,
See: Video Games, High Art, Roger Ebert & the Cultural Ghetto